When we were heading into the last phase of our transformation to Agilty, an ecosystem began to emerge. At the time, I wasn't sure if this was intentional but nonetheless, there it was. Simple, focused, and obvious.
I set out to map this ecosystem and before too long this sketch emerged. With this post, I'll walk you through some of the thinking behind it.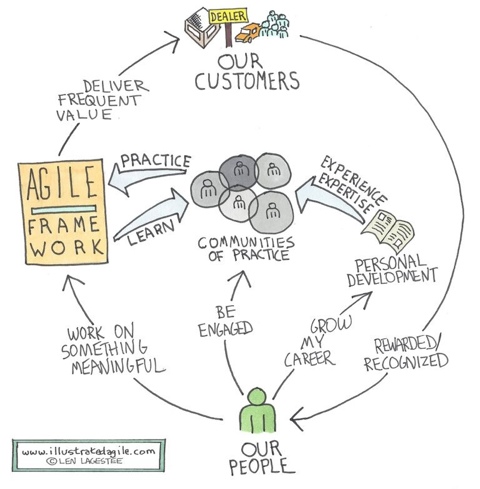 Our People
The first thing I drew was the figure at the bottom representing our people. One of the values we stressed when we began our Agile transformation was the overall health and well-being of our people. So with this in the front of our minds, four needs emerged: they need to work on something meaningful, they need to feel valued and engaged, they need to continue learning and advancing in their careers, and there is also the need to be recognized and rewarded for their contribution to delivering value to our customers.
Our Culture
We set out to design our Agile framework to allow our people to always be working on high priority and meaningful things. To make this happen, we leveraged the Scrum model for product development teams with a single product owner determining which features would be valuable to our customers and creating those features with a dedicated and consistent team. More details on the framework in a future post.
We also introduced the concept of communities of practice by leveraging theories from Etienne Wengerto form them. Based on roles in the framework (i.e. developer, tester, scrum master, product owner) and as defined by Mr. Wenger, communities of practice are groups of people who share a concern or passion for something they do and learn to do it better by meeting regularly. This is the place for people to feel engaged with others performing in their role and with the organization at large. Notice the feedback loop between the communities of practice and the Agile framework with the feedback being driven primarily from retrospectives within the dedicated product teams. As community members practice their role within the framework they are constantly learning how to make it better. They are driving continuous process improvement!
Lastly, we need to ensure that our people are constantly developing their skills and bringing their expertise back into their community. We strongly leverage our engineering and career managers to foster development plans to meet the skills needed to support our product and architecture roadmaps.
Our Customers (Brand)
Another value we stressed was the need to deliver results through the frequent delivery of customer features and to be responsive to changing conditions. Leveraging Agile principles, our framework accommodates this through small and iterative release cycles. The framework also expects the product owner to constantly be in a state of customer discovery – finding our customers needs and determining features to satisfy those needs.
By
Related posts